NEW

Programme of Talks for September 2021-May 2022 – for full programme see meetings 
---
Next Meeting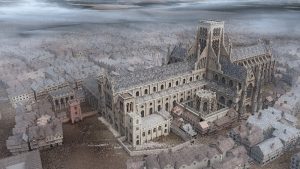 Ealing Branch, Historical Association, Tuesday 14 December 2021, at Ealing Green Church, W5 5QT. Doors open at 7.30 pm for 7.45pm start.
Talk by  Dr John Schofield,  St Paul's Cathedral Archaeologist,
'Saxon and Medieval St Paul's Cathedral'
November Update

. 
In November we will resume holding meetings on the second Tuesday of each month at Ealing Green Church, W5 5QT. Doors open at 7.30pm and the meeting will start at 7.45 pm.
A. For those intending to attend in person, please follow the required Covid safety requirements:
1) Please register in advance by emailing philip.woods@tiscali.co.uk and give a contact number.
(2) people with the NHS-Covid app may use the QR code for the church on arrival to log in.
(3) please wear masks during the meeting unless you are exempt
(4) We advise you to be  warmly dressed as increased ventilation will make the church feel colder
B. We hope to continue offering a live stream to ZOOM as well. Members (local and national) will receive invitations to register on Zoom in the first week of December. Others should request an invitation by emailing philip.woods@tiscali.co.uk
Any changes will be notified on this website and by email to those members and on our circulation lists, and on local Facebook sites. There will be no charge for the ZOOM sessions but we will send out requests for payment for local membership to cover the whole year as usual and we welcome donations to help cover costs (to the Treasurer ) The talk will also be made available  through recordings to those unable to attend, via Zoom Meetings. Links to recordings will be sent to all those registering for individual talks or by request to philip.woods@tiscali.co.uk. The recordings expire after 30 days.
A new page, History Updated,  we have started which is designed to provide information about up-to-date history talks, topics and sources.
Our Branch
A warm welcome to the local Ealing Branch of the national Historical Association which was founded in 1906 as 'the voice of History'. The H.A. believes that an historical awareness is essential for the twenty-first century citizen. It brings together people who share an interest in, and love for the past, and it furthers the study, teaching and enjoyment of history in all forms.  A full version of its aims and activities can be found on its website www.history.org.uk. The H.A. has some 50 local branches of which Ealing is one. Our local activities include monthly lectures by distinguished and expert lecturers, and outings to exhibitions and places of historical interest in and around London.
Our Aims
Our aim is to promote the study of, and interest in History as a living and relevant part of the past and future of the very diverse population and culture of our area. In our monthly lectures, we aim to present the most up-to-date learning and cover a wide range of topics both local, national and international.  We also aim to cover subjects of both topical and commemorative interest.  We hope thereby to both 'instruct and entertain' as wide an audience as possible. We also have a second-hand History book section. Profits from sales go to the local association to support its activities.  Members of the committee help to organise the sales at the annual Historical Association conference and at the Brentford Festival in September. If you have history books which are in saleable condition and that you would like to donate to us, please contact Liz Wood, woodliz366@gmail.com
Our Meetings (see above for changes resulting fromCovid-19 situation)
Meetings are usually held on the second Tuesday of each month between September and May, at the Parlour of Ealing Green Church, W5 5QT at 7.30 pm. However, the October meeting normally takes place at Twyford CofE High School, Twyford Crescent, London W3 9PP at 6.30pm  Membership Membership is open to everyone. You can become a member of either the national organisation (which includes local membership) for £63 per year (£42 concessions) or  a local member for just £15 a year.  You will then receive regular emails or newsletters about our activities. Non-members are also welcome to attend individual talks for a contribution of £5 (students are free). We look forward to seeing you at our events.